Lessons:
Lessons are given during regular business hours by experienced music professionals at Mel Owen Music. Teachers at Mel Owen Music keep their own schedules. Please call our store at (502) 893-6624 or email to: info@melowenmusic.com and a message will be given to the teacher and they will contact you directly.
---
Drum Lessons – by Jeff McAllister
Jeff McAllister is now accepting a limited number of new students who are interested in serious drumming! Jeff has played with Lynyrd Skynyrd, Hank Williams Jr, The Monarchs plus others. Visit www.jeffdrum.com
Visit www.jeffdrum.com
Solo 1
Jeff McAllister (former drummer for Lynyrd Skynyrd) plays a short solo during a clinic at the Spring 2011 DFO Summit in Indianapolis, IN.
---
Flute Lessons – By Jean Hutchinson
Jean Hutchinson, a native of Warrenville, Illinois, is the instructor of flute at Mel Owen Music. She is also a lecturer in music history at University of Louisville and adjunct instructor in music history at Jefferson Community and Technical College's southwest campus. In 1984 she founded the Panpipes Flute Choir, composed of students from her studio as well as selected community members. In the ensemble, Ms. Hutchinson instructs members in sight reading skills, ensemble balance and intonation, and introduces literature from both classical and popular music that has been arranged for flute choir as well as original works for the ensemble. The group performs at approximately eight venues each year. For ten years, Ms. Hutchinson was instructor of flute, music history and chamber ensembles at Bellarmine University. She has a Bachelor of Music in flute performance and a Master of Arts in music history, both from the University of Louisville. Ms. Hutchinson has pursued post-graduate flute study with Robert Cavally, Katherine Borst Jones and Walfrid Kujala. As a freelance performer, Ms. Hutchinson can be heard in a variety of instrumental and choral groups and venues. She has served as adjudicator for several KMEA solo and ensemble festivals and All County band auditions.
My best gig ever was the series of faculty recitals I presented in Amy Cralle Hall at Bellarmine University between 1997-2004. As a member of the performance faculty, I felt it was important to present programs of flute literature for the benefit of the music majors. Included on the programs was one flute chamber work with a different combination of instruments or voice each year. Guest performers included: Louisa Ellis Woodson, harp; Ernie Gross, clarinet; Robin Chappars, cello; Jeff Sherman, guitar; Christina Bouras, soprano; and Dave Clark, saxophone. I also presented one piece performed by the Panpipes Flute Choir and Bellarmine Flute Ensemble so that the flute students could not only attend the concert, but participate as well.
---
Trumpet Lessons – By Melanie Dillman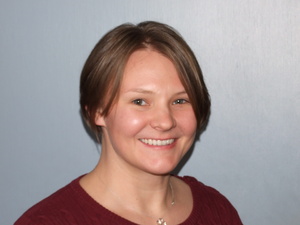 Melanie earned her Bachelor of Arts degree in Trumpet Performance from Indiana University. She has volunteered her time helping several Jefferson County schools with their trumpet sections. In her free time Melanie plays Trumpet in various venues in the Kentuckiana area as well as working high school band camps and teaching private & group trumpet lessons.
---
Trevor Brown (Clarinet)
Trevor Brown was born in Louisville, KY in 1991. He started studying clarinet at the age of 10 at Bowen Elementary School. It is here where his love for music arose. He continued his education at Barret Middle School and Male High School where he studied under renowned conductor and member of the American Bandmasters Association, Nan Moore. He was a member of the Male Symphonic Band from his freshman year until his senior year. Upon graduating from Male he received the distinguished John Philip Sousa Award. Trevor recently received his Bachelor's Degree in Music Education from Morehead State University where he studied with Dr. Lori Baruth and Dr. Gordon Towell. He was an active member of the National Association for Music Education and was elected treasurer for the Morehead State chapter for the 2012-2013 school year. During his senior year he served as the director and played tenor saxophone for the Volleyball Pep Band. Trevor finished college in the spring semester of 2014 by student teaching with Charles Stewart at Jeffersontown High School and with Joseph Stivers at Crosby Middle School.
Trevor Brown has had many unique playing opportunities throughout his clarinet career. He played as a member of the all-county band in Jefferson County in the 8th, 10th, 11th, and 12th grades. He also made the all-state concert band as a senior in high school. During his time at Morehead State he played in master classes for well-known clarinetists such as Robert Spring and Victor Goines. He also played a movement from Frank Ticheli's clarinet concerto for Frank Ticheli himself along with the virtuosic clarinet solo from his work, "Blue Shades", under his baton. Trevor is currently a member of the Louisville Winds which is directed by his high school band director, Nan Moore.
---
Tom Browning (Guitar)
Tom received his Music Theory & Composition degree from Bellarmine University. Also studied at U of L School of Music with Dr. Keyes. Studied guitar with Tom Lee and Jimmy Raney. Tom has been teaching guitar for over 30 years and is currently with the Pranksters and performs at various venues in Louisville. Tom has played in Boston, St. Croix (USVI), Indiana, Ohio, Michigan, West Virginia as well. He has performed with Bo Diddly, David Goldflies (Allman Bros), Jason Izbell (Drive by Truckers), Tom Constanten (Grateful Dead), Brad Bralove (Stevie Wonder) and many others.
Tom says his best gig ever has been performing with the students at YPAS. "I was hired to arrange music for their orchestra and played guitar with them at the performance. It was a thrill to hear my orchestrations performed by well-trained students who were learning how to become professional musicians."
Musical Influences
Jimmy Raney, John Lennon, Arnold Schoenberg
John McGlaughlin, Larry Coryell, Jeff Beck, Miles
Trane, Jerry, Bo Diddley, Soft Machine, Betts, Doors
---
Wayne Wellman (Bassoon)
Wayne received his Bachelor of Fine Arts degree from Indiana University of Pennsylvania. He has over 35 years of experience repairing brass and woodwind instruments. He is a member of the International Double Reed Society, plays Bassoon with the Louisville Philharmonia, IUS Orchestra, Bellarmine Civic Orchestra and Crossgate Players Quintet.
---
Kristin Bellucci (Piano)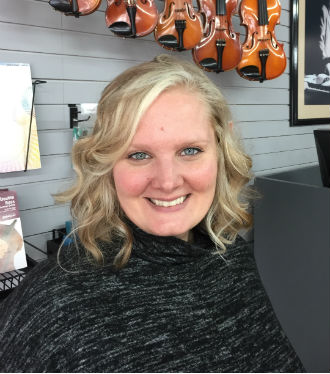 Kristin is a classically trained pianist. She graduated from YPAS and received her Bachelor of Arts in Music from Western Kentucky University. She has 16 years of teaching experience and specializes in beginning students of all ages.
---
Grace Salsman (Cello)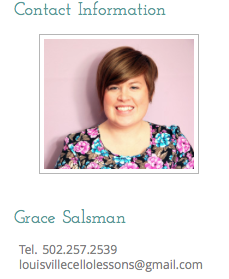 ---
John Little (French Horn)
John Little received the M.M. , and B.A. degrees from the University of Louisville , studied horn performance at The New School of Music in Philadelphia, Studied hand horn, and Baroque horn performance at Indiana University/Bloomington, and studied liberal arts at Haverford College. Mr. Little enjoys both teaching, and performing, and maintains a busy schedule of both. In the past he has served as Adjunct Professor of Horn at Centre College, Instructor of horn, and Music Theory at the University of Louisville Community Music Program, horn Instructor at the Settlement Music School of Philadelphia, and gives masterclasses on both the hand horn, and modern horn throughout the country. Mr Little has served as the Band Director for Sacred Heart Schools, and the Jackson Independent School System. Mr. Little is published on the subject of "Teaching the student with Aspergers". His former students have won positions in the orchestras of Louisville Chicago Civic Orchestra, Annapolis Symphony,Santiago(Chile),and Richmond.
In the performance world Mr. Little has been a member of the Starlight Horn Duo for two years, touring, and recording, as well as performing with the Orchestra Society of Philadelphia, Owensboro Symphony, Paducah Philharmonic, Derby Dinner Theater Pit Orchestra, Iroquois Show Pit Orchestra, Three Amigos Hand Horn Trio, and is an active soloist. He has appeared as guest soloist with the Kentuckiana Philharmonic, Jewish Community Center Orchestra, Christian Academy Wind Ensemble, been a featured artist at the conferences of the Kentucky Music Educators Association, Kentucky Music Teachers Association, Southern Indiana Organist Guild, Northeast Horn Workshop, and the Ohio University Horn Festival. Mr. Little has recently been placed on the roster of performing artists with the Mozart for Munchkins series in New York, and San Francisco. He may be heard on "Blasts of Brass", the cd.